PAYMENTLOCK & GDPR

You may, by now, have heard of the new regulations regarding the gathering, processing, and storage of personal data issued by the EU known as GDPR – General Data Protection Regulation. This was effective 25 May 2018.
The security and engineering team at PaymentLOCK put together these set requirements back in March of 2017. In line with our existing Security initiatives our team took a very pragmatic approach to how we currently handle sensitive data and to ensure all merchant data is compliant within the law that will be enforced from day one. 25 May 2018.
GDPR underlines the processes that we have implemented, and we believe will further help in building deeper trust and loyalty with new and existing customers through the professional handling of our customer's personal data.
PRIVACY BY DESIGN
GDPR and privacy management go hand in hand. Privacy is not something that is added to an existing application but built into the core architecture and functionality.
At PaymentLOCK, we are committed to including privacy at the initial design stages and throughout the complete development process of new products, processes and or services that involve processing personal data.
PRIVACY DATA CYCLE MANAGEMENT
GDPR comprises of eight basic rights.
These rights are given to individuals to protect their private lives and control the digital footprints they leave behind when using internet-based applications and services.
These rights are meant to create openness, control, and trust between the parties.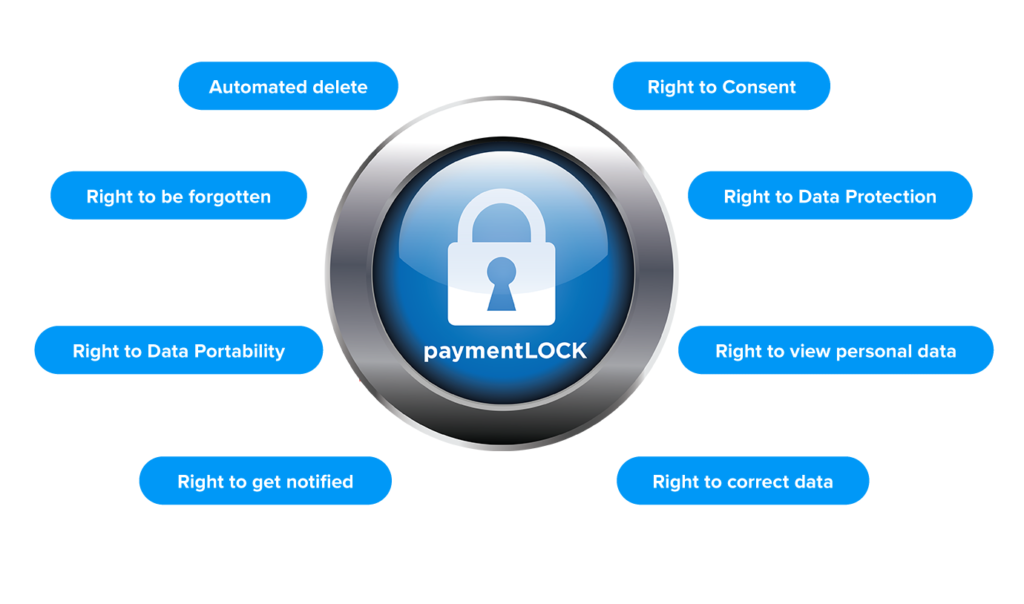 PaymentLOCK will not share your data with any third parties other than those listed in our Privacy Policy which is available to read on the website Here. These partners enable us to continue providing the high level of service to our customer base. The new Privacy Policy was released in May 2018 in compliance with the new regulations and you should familiarize yourself with the content of it.
If you no longer wish to receive communications from PaymentLOCK (including your membership materials) then please inform us immediately. If you wish to continue receiving information then there is no need to do anything.
Thank you, as always, for your support and your patience while we worked to meet new regulations and provide you with the most secure Payment Management Platform in the market today.
–PaymentLOCK Team